PROFESSIONAL TEETH WHITENING
Premium Dental Turkey Laser Teeth Whitening
PROFESSIONAL TEETH WHITENING IS USED FOR
A stain elimination process that restores a tooth's original colour in a very short time.

HOW MANY DAYS DO I NEED
Your treatment can be completed in 1 day
GET FREE QUOTE
SEE PRICE LISTS
Have you noticed that your teeth are somewhat yellow? Are you self-conscious about not having a bright white smile? An unsightly smile can make you less self-confident and eat away at self-esteem. A less than perfect smile could even hurt career prospects in certain fields like entertainment, broadcasting, or public relations. If you want shining pearly white teeth like those you have seen in dozens of toothpaste commercials, consider getting a professional teeth-whitening procedure done at Premium Dental Turkey. 
Who Needs Professional Teeth Whitening?
Professional teeth whitening is a rather uncomplicated procedure that makes yellowish teeth look whiter. Our teeth naturally have a yellow tinge. However, daily habits and food intake can make teeth turn visibly yellow, ruining your smile. If you drink a lot of coffee, for example, your teeth may look yellower than usual. Certain bad habits, like smoking, can permanently stain teeth. You can benefit from a professional teeth whitening procedure if your teeth are glaringly or unnaturally discolored yellow. Even a slight yellow tinge that you don't like can be removed with in-office teeth whitening.  
What is Professional Teeth Whitening? 
Daily brushing with regular toothpaste does not remove unpleasant stains from teeth because they are hard-set in enamel.  You may have tried various tooth-whitening products commonly available at grocery stores. These over-the-counter toothpastes, gels, and rinses contain a bleaching agent, typically hydrogen peroxide, in very low concentrations. When you use these products, your teeth may brighten slightly. However, the whitening component in these easily available products is too low in concentration to effectively remove tougher stains.
Professional teeth whitening refers to a procedure only certified dentists are allowed to carry out to remove difficult stains from teeth. Unlike with over-the-counter tooth whitening products, you can enjoy long-lasting and more effective results with professional teeth whitening. Premium Dental Turkey offers laser teeth whitening, one of the quickest and most effective whitening procedures found anywhere. You can obtain the procedure with a single visit and notice visible changes soon after. 
Premium Dental Turkey Laser Teeth Whitening
The laser teeth whitening procedure we offer is a combination of high tech and traditional whitening. During the procedure, one of our specialist dentists will apply a highly concentrated whitening gel onto the stained teeth. This gel is activated by a high-intensity plasma light. It will remove stains and restore the original color of the teeth. 
We use a whitening agent that is more concentrated than what you would find in grocery store tooth whitening products. Dental clinics elsewhere in Europe can only use a whitening gel with up to 6 percent of hydrogen peroxide concentrate, which is too low to offer a noticeable difference. Premium Dental Turkey Clinic, on the other hand, is authorized to use whitening agents with peroxide concentrations ranging between 25 and 40 percent. The results are far more visible and long-lasting with these levels of concentration. When you come one of our clinics, only a highly skilled dental professional will administer this treatment to ensure your utmost safety. 
When you visit Premium Dental Turkey, a dentist will determine how you should receive the procedure. The procedure only lasts about 40 minutes and can be completed in a single setting. However, most of our patients require two 40-minute sessions for results that may last years. The procedure itself is painless and is less complicated than a root canal. 
It's important to understand that laser teeth whitening does not result in a particular tooth shade you want. It's a stain elimination process that restores a tooth's original colour. If you want your teeth to be a particular shade, say Hollywood white, consider
Dental Veneers
or
Dental Crowns
instead, which we also offer. 
If you have pressing questions about signing up for a professional tooth whitening procedure, feel free to contact us. 
>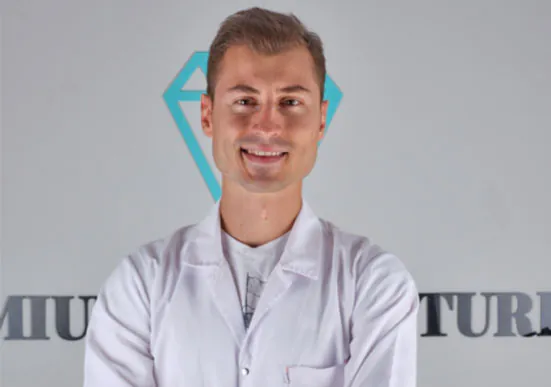 Reviewed by Dr-Dt-İsmail-Kilic - Prosthodontist 2018-03-11 edited on 2021-11-14
---
He graduated from Hacettepe University Faculty of Dentistry, which he started in 2009, in 2014. He continued his post-graduation academic and clinical education at Selcuk University Faculty of Dentistry, Department of Prosthodontics between 2014-2018. In 2018, he was entitled to receive the title of specialist dentist by presenting his thesis on "Comparison of Digital and Conventional Impression Methods in Implant Supported Fixed Partial Prosthesis". Specialist Dt. İsmail KILIÇ has published various articles in national and international peer-reviewed journals, and he has taken place in many congresses with oral and poster presentations. He is a member of Turkish Dental Association (TDB), Turkish Association of Prosthodontics and Implantology (TPID), European Prosthodontic Association (EPA), International Association for Dental Research (IADR) and International Team for Implantology (ITI).