Recreate Your Smile with Smile Makeover Turkey
SMILE MAKEOVER IS USED FOR
To recreate a healthy and aesthetically pleasing smile makeover in Turkey. You can choose the shape, size and colour of your teeth to achieve the end result you are looking for. 
HOW MANY DAYS DO I NEED
SMILE MAKEOVER TURKEY CAN BE COMPLETED IN 5 DAYS
GET FREE QUOTE
SEE PRICE LISTS
What is Smile Makeover?
Everyone wants to have a beautiful, pearly white smile. Unfortunately, natural wear, decay, and other issues could damage your teeth and make your smile less impressive. Premium Dental Turkey offers a host of cosmetic dental treatments in turkey that can improve your smile or restore it to its old glory. Our dentists are specialists in the field of cosmetic dentistry, not general dentists. We can help you with a myriad of treatment options considering what's hurting your smile. While cosmetic dental procedures are becoming more and more popular, most patients are priced out of treatment. Premium Dental Turkey is committed to offering high-quality and affordable cosmetic dental procedures to patients from around the world. You can enjoy
Smile Makeover in Turkey
exactly like the options available in Western Europe, the UK and the US but at a much lower cost.
Who Needs a Smile Makeover?
Are you generally dissatisfied with your smile? Perhaps your teeth are stained yellow, or maybe there's a misshapen tooth ruining the whole smile. Decay or physical damage like chipped teeth could also ruin your smile. In some cases, missing teeth due to an advanced age, gum disease, or impact damage, might be making your smile look less than impressive. Smiling is one of the most natural and common expressions of emotion that we display. If you are unsatisfied with your smile, it could hurt your self-confidence and esteem. You might retreat from social occasions that require you to smile. For some people, a bad smile is a professional disaster. If you work in a highly social profession like acting, broadcasting, public relations, or communications, a bad smile could literally ruin your career prospects. If you are suffering from any of these issues, Premium Dental Turkey can help. We can help you do a complete smile makeover according to your specifications and expectations. Smile makeovers are not entirely aesthetic. Restoring your smile and fixing damaged teeth can also help you bite, chew, talk, or eat as normal once more. In some instances, smile makeovers strengthen teeth and reduce the risk of tooth decay and gum disease. Smile makeovers can also fix your facial structure if the jaw bone is receding due to age and teeth damage.
Available Treatment Options
A smile makeover is not a single treatment option. In fact, there is a number of varying treatment options available to restore smiles. There are several issues our smile makeover treatments fix. We commonly treat tooth colour issues that can ruin brilliant smiles. We can also fix tooth length, alignment, and proportional issues. Treatment options can also address several issues like missing teeth, misshapen gums, severely damaged teeth, gaps, or other spacing issues. Here are some of the most common cosmetic dental procedures that restore smiles:
Professional Teeth Whitening
Don't confuse professional teeth whitening with teeth whitening products you can buy from supermarkets. Commonly available whitening toothpaste, gels, or mouthwashes do not remove deep stains that make teeth appear yellow. It can be done with a single appointment and in 45 minutes.
Dental Veneers TURKEY
Dental
veneers turkey
are a common and uncomplicated procedure that can provide you with brighter and more shapely teeth that results in a brilliant smile. Dental veneers are thin shells that are bonded to the surface of a tooth. Veneers can whiten teeth or fix damage like chippings. We have over 30 shades of colours you can choose from to get the smile you want. Veneers can be used to visually correct misshapen or crooked teeth. We offer high-quality
dental veneers in Turkey
that look exactly like natural teeth.
Dental Implants TURKEY
Dental implants turkey
are surgically inserted into your jaw to fix missing teeth or unsightly tooth gaps. Unlike dentures, implants are permanent and act as a strong foundation for prosthetic teeth. Dental implants can restore your natural smile and also tooth functionality. We have highly skilled dental surgeons to carry out dental implant surgeries safely with only two visits. We only offer worldwide known dental implant brands like Straumann, Nobel Biocare and Mode Dental Implants. We also offer a lifetime guarantee for your dental implants. 
Dental Crowns TURKEY
Do you have worn out, damaged or misshapen teeth? Then a dental crown can effectively disguise the problem. Dental crowns are like caps that cover the visible white surface of teeth. We custom design dental crowns that look and feel like natural teeth from branded materials.
Dental Bridges
This treatment option is highly recommended for those with missing teeth or tooth gaps. Dental Bridges can treat missing teeth without requiring heavy surgical intervention.
Dental Lumineers
Dental lumineers are like dental veneers but they are much thinner. These products are mainly used to fix minor issues with natural teeth. We can effectively treat subtle appearance issues with lumineers so you can perfect your smile.
Gum Contouring
Sometimes smiles are not ruined by teeth at all. If your gums are making your smile misshapen, our expert dental surgeons can contour the gum line for a more even and shapely smile.
Dental Facelift
Gum lines and jawbones can recede as we age, which can change the shape of our faces and hurt natural smiles. We offer best quality dental facelifts at the hands of highly experienced consultant dentists for patients who might benefit from this procedure to restore smiles. When you visit Premium Dental Turkey, an expert dentist will evaluate your condition and recommend the best treatment options. If you already have a treatment option in mind, you can consult one of our dentists regarding the costs, risks, and effectiveness.
Why Choose Premium Dental Turkey for Your Smile Makeover Procedure?
Reasonable and Affordable Costs
Cosmetic dental procedures have skyrocketed in popularity in recent times. So have the costs. Premium Dental Turkey offers much lower costs for various treatment options than what you can get at your local clinic. Our costs are lower mainly because operating a
dental clinic in Turkey
is inexpensive compared to other parts of Europe. We pass down this advantage to our patients. While we offer the same branded products, the complete cost of obtaining the treatment would be much lower compared to clinics in the U.S., Western Europe, or Australia.
High-Quality Dental Products
While our costs are affordable, out products are not cheap knockoffs. We offer authentic, branded products just as you find in other parts of Europe. Our materials are sourced only from Switzerland, the US, and Germany. We do not offer cheaper alternatives or low-cost "versions" of world-class dental products. When you purchase a dental implant, crown, or a veneer from us, you can be assured that you are getting the real thing.
Bespoke Dental Treatment Plans
At Premium Dental Turkey, you will be treated with cosmetic dental procedures tailor-made to meet your needs. We design most smile makeover products in the clinic or at an affiliated, grade A laboratory. We personalize treatment options so you end up with exactly the results you want. If you want a bright white smile or fix a gap in teeth with a natural-looking prosthetic, we can offer exactly what you need. Not all patients enter treatments with the same results in mind. We understand your concerns and will deliver as you expect. >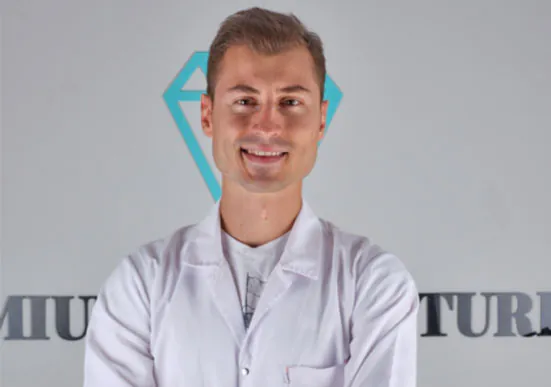 Reviewed by Dr-Dt-İsmail-Kilic - Prosthodontist 2018-02-20 edited on 2021-11-14
---
He graduated from Hacettepe University Faculty of Dentistry, which he started in 2009, in 2014. He continued his post-graduation academic and clinical education at Selcuk University Faculty of Dentistry, Department of Prosthodontics between 2014-2018. In 2018, he was entitled to receive the title of specialist dentist by presenting his thesis on "Comparison of Digital and Conventional Impression Methods in Implant Supported Fixed Partial Prosthesis". Specialist Dt. İsmail KILIÇ has published various articles in national and international peer-reviewed journals, and he has taken place in many congresses with oral and poster presentations. He is a member of Turkish Dental Association (TDB), Turkish Association of Prosthodontics and Implantology (TPID), European Prosthodontic Association (EPA), International Association for Dental Research (IADR) and International Team for Implantology (ITI).