Dental Implants Turkey are used for replacing missing teeth
DENTAL IMPLANTS ARE USED FOR
Dental implants Turkey are offered to replace single tooth or multiple teeth. They give you the opportunity to restore functions and appearance of the tooth.

HOW MANY DAYS DO I NEED
Dental Implants Treatments in Turkey can be completed in 2 visits. 
GET FREE QUOTE
SEE PRICE LISTS
What are Dental Implants ?
Dental implants are a more effective substitute for dental bridges or dentures. They are titanium screws that can replace missing or decayed tooth.Like dental bridges and dentures, implants can restore smiles and chewing function impaired due to missing or damaged teeth. However, unlike dentures, or dental bridges dental implants are permanent solutions for your missing or damaged teeth. A dental implant to support a dental crown can work very much like a real tooth. If you are looking for reliable and quality alternatives to
dental bridges turkey
or dentures in order to replace your missing teeth or teeth need to be extracted, dental implants may be the perfect solution for you. You can replace a single tooth or multiple teeth with Dental Implants.
High-quality dental implants are typically very costly especially in Western European countries, USA or Australia. Premium Dental Turkey offers highly affordable rates for dental implants in Turkey without compromising the quality of the product.
What Dental Implants Can Do for You ?
Medical professionals call dental implants replacement roots for teeth. Here are some of the many benefits dental implants can offer patients suffering from teeth loss or dental gaps:
Natural Looking Teeth : Premium Dental Turkey provides dental implants to support dental crowns in Turkey to match your natural teeth. Therefore, the dental implants don't look out of place, even when they replace your front teeth. You can smile confidently once more with permanent dental implants and not have to worry about your teeth looking artificial. Dental implants to support Dental Crowns are currently the best option to restore smiles.
Implants are Permanent : Unlike dentures that require removal and cleaning, dental implants are permanently fixed to your jaw. Not only do the implants look like natural teeth, they feel like natural teeth as well. You can take care of dental implants the same way you maintain your normal teeth, by brushing and flossing.
High Success Rate : Dental implants Turkey are successful 98 percent of the time. It's one of the most successful dental procedures used today.
Perfect Fit : Dentures are notoriously difficult to wear. The device has a tendency to fall off while the wearer is eating or speaking. Dental implants, on the other hand, are fused to your jawbone so you will never have to worry about them falling off.
Speak Naturally : Dental implants turkey do not disrupt speech like dentures. As they function just like normal teeth, you can return to your regular speech pattern with implants. You won't have to slur words or mumble incomprehensibly when you have dental implants in your mouth.
High Levels of Comfort : You won't feel the dental implants cutting into your palate or bearing down on your tongue like dentures. They will feel right at home in your mouth just like your natural teeth. If the discomfort caused by dentures is a major concern for you, then implants are the best solution.
More Convenience : Are you having trouble finding time to clean your dentures? Implants do not require removal or cleaning, so you can save time and enjoy more comfort with implants than dentures.
Chew Food Normally : Dental implants wholly eliminate trouble with chewing due to missing teeth or dentures that move when you bite down. You can indulge in your favourite hard-crusted foods without the fear of discomfort or pain when you have dental implants.
A Long-lasting Solution : Dental Implants are fixed to your mouth for life. You don't have to go to the dentist every month to have dental implants adjusted or fixed. Once you get these fixed, you only have to go to the dentist for routine check-ups.
Less Risk of Infection : Dentures are removable, which increases the chances of the device introducing harmful bacteria to the mouth. Because dental implants are permanent, you can be assured of good oral hygiene with minimal effort.
All in all, with dental implants, missing teeth or enamel damage, you will start to feel more confident. You can start smiling again, speak in public and eat in the company without feeling embarrassed about your teeth.
How Are Dental Implants Turkey Placed?
Dental implants can be used either to replace a single tooth or restore your whole smile. One of the Oral Surgeons at Premium Dental Turkey will take an assessment of your teeth first, and then we will draw up a custom plan to fix your dental issue. Our dental implants can support up to 28 teeth, with 14 on each jaw.
It should be understood that dental implants refer to only one part of the artificial tooth that will be fixed inside your mouth. The part referred to as the implant looks like a screw that is fused with your jawbone. Dental implants are made from various types of material but the best are usually titanium. This metal fuses well with the natural bone and tissue. Titanium is also very long-lasting. We only provide high-quality titanium dental implants to our patients.
In addition to the titanium implants, there are two other parts called the abutment and the crown which will be fixed. The crown is the porcelain component made to look like the white enamel of your natural teeth that juts out above the gum. The abudment is a tiny attachment that connects the implant with the crown. Premium Dental Turkey includes the cost of all three in our dental implant quotes so patients are never caught off guard with hidden fees.
Dental Implants in Turkey and How Long Does It Take?
Generally speaking, if you are in good health, you can undergo dental implant surgery. It is only in very rare cases like oral cancer or severe diabetes or severe bone loss that some patients are discouraged from getting implants. Premium Dental Turkey clinicians would first run an assessment to make sure the implant surgery is suitable to your existing medical condition.
Once you are ready to receive the implants, the treatment only takes two visits to complete. Your dentist will place the dental implant during your first visit. Then, following a mandatory 3-month healing period, the porcelain crown will be fitted. The wait time is necessary to allow the implants to fuse to your jawbone.
Dental Implant Brands
Premium Dental Turkey ensures that patients get the best dental implant brands available in the world. We only use top brands and the quality of the material is no different from what you would obtain through more expensive treatment in countries like the US or the UK. Here is the list of brands we typically use:
Mode Dental Implants Turkey
Mode is one of the best-known dental implant brands in the word. Mode offers effective and varied implant products that suit a number of dental conditions and treatment options.
There are several series of implants offered by Mode, including RAPID, MINI, and LEVEL uni-pack products. The brand also offers OCTAFIT Internal Conical Connection System full-pack implants befitting the unique bone and tissue structure of each individual patient.
Mode implants are completely free of oils. The brand's products are made only with pure water, thus eliminating various industrial contaminants in implants. Mode implants do not require acid cleaning as a result.
Straumann Dental Implants Turkey
Straumann is possibly the most popular dental implant brand in the world. The brand manufactures its implants and support components in the United States and Switzerland. The company also offers dental tissue regeneration devices made in Sweden. You can be assured of the best quality with this brand. The brand has been active since 1954 and is well known among dentists. Straumann also invests heavily in pioneering dental research institutes and universities. Straumann dental implants are made using the latest technology developed with its considerable investments. Titanium implants and abutments can be obtained through the Straumann brand. This brand comes highly recommended due to how reliable and safe their products are.
Nobel Biocare Dental Implants Turkey
Switzerland-based Nobel Biocare is one of the leading dental implant brand names in the world. In fact, it was one of the founders of this company, Dr. Per-Ingvar Brånemark, who discovered osseointegration, the process wherein titanium implants are fused to the jawbone. Nobel Biocare sold the first-ever titanium dental implants and continues to produce them to this day. The latest Nobel Biocare products are manufactured using high-tech CADCAM method. You will be able to purchase dental implants, abutments, and porcelain
crowns in turkey
through this brand. One of the biggest advantages of choosing this brand is that your implant comes with a customized template guide. It allows the dental surgeon to place the implant with precision in your mouth. Straumann and Nobel Biocare are both highly-priced dental implant brands.
Having dental implants in Turkey is the most economical way to achieve a healthy smile without compromising the quality of the products and dental work. If you were to obtain these implants in Europe or North America, the cost would be almost unaffordable. However, Premium Dental Turkey offers the same products for a much lesser price due to lower operational costs in Turkey. Don't let costs prevent you from having the best products for your dental implants. Our dentist in Turkey consist of Oral Surgeons in the area of Dental Implants. If you choose Premium Dental Turkey for your implants treatment in Turkey an Oral Surgeon will apply your Implants. To learn more about the best implant brands, implants in turkey and dental travel contact Premium Dental Turkey without delay. You can get free quote to get relevant information regarding Dental Implants in Turkey along with the associated costs.
>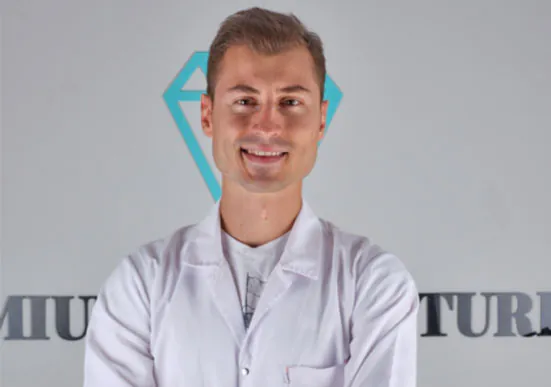 Reviewed by Dr-Dt-İsmail-Kilic - Prosthodontist 2018-02-11 edited on 2021-11-14
---
He graduated from Hacettepe University Faculty of Dentistry, which he started in 2009, in 2014. He continued his post-graduation academic and clinical education at Selcuk University Faculty of Dentistry, Department of Prosthodontics between 2014-2018. In 2018, he was entitled to receive the title of specialist dentist by presenting his thesis on "Comparison of Digital and Conventional Impression Methods in Implant Supported Fixed Partial Prosthesis". Specialist Dt. İsmail KILIÇ has published various articles in national and international peer-reviewed journals, and he has taken place in many congresses with oral and poster presentations. He is a member of Turkish Dental Association (TDB), Turkish Association of Prosthodontics and Implantology (TPID), European Prosthodontic Association (EPA), International Association for Dental Research (IADR) and International Team for Implantology (ITI).