Painless and Worry-free Tooth Extraction
TOOTH EXTRACTION IS USED FOR
Tooth extraction is a necessity if a tooth becomes too damaged or infected due to physical trauma or cavities.In some cases, teeth are extracted in advance to avoid complications later on.

HOW MANY DAYS DO I NEED
Your treatment can be completed in 1 day.
GET FREE QUOTE
SEE PRICE LISTS
Tooth extraction is an extremely common dental procedure many of us undergo at least once in our life. While the medical risk of tooth extraction is low, the financial risk can be high. Premium Dental Turkey offers tooth extraction procedures, including surgical tooth extraction, at low costs with pain-free, high-quality treatment options.
Painless and Worry-free Tooth Extraction
Tooth extraction is a necessity if a tooth becomes too damaged or infected due to physical trauma or cavities. In some cases, teeth are extracted in advance to avoid complications later on. In young adults, wisdom teeth removal is common in order to prevent infections and cavities occurring later in life. Most tooth extractions are simple procedures. But in some cases, surgical tooth extraction is a necessity, particularly in cases where a tooth is embedded in the gum. 
Despite teeth extraction being common and uncomplicated, most of us dread the procedure nonetheless. The fear may sometimes even prevent some patients seeking treatment altogether. Premium Dental Turkey offers anxiety-free tooth extraction procedures for both children and adults. Our supportive dentists will work with you to ease doubts and painlessly extract teeth before the condition worsens. 

Conditions We Commonly Treat with Tooth Extraction 
You may dread having a tooth pulled, but take a look at these conditions the procedure will relieve:
Remove Infected Teeth: Infected teeth, caused typically by cavities, lead to unbearably painful toothaches. Sometimes the decay descends to the interior of the teeth, by which time it can be easily managed with a root canal procedure. However, in some cases, root canal treatment or antibiotic prescriptions do not fix the issue. In this case, dentists recommend removing the infected tooth to prevent further damage. 

Misaligned Teeth: Some teeth are misaligned and too big for the mouth. These teeth must be pulled to make room in your mouth for the other teeth. 

Crowded Teeth: In young people, adult teeth sometimes don't erupt from the gums because there are already too many teeth present in the mouth. The dentist will recommend surgical tooth removal to treat the condition

What to Expect at the Clinic 
The procedure can be performed within the duration of one visit. It usually doesn't take much longer. The dentist will use a local anesthetic, which you will recover from several hours following the procedure.

If you require surgical tooth extraction, the dentist may take a dental x-ray before the procedure. Surgical tooth extraction can also be performed in one day. You may feel some pain after the local anesthetic wears off, but the wounds will heal within a week. 

At Premium Dental Turkey, you can enjoy the added benefit of low local costs and experience the scenic locations in the country when you visit to have your tooth pulled.  

>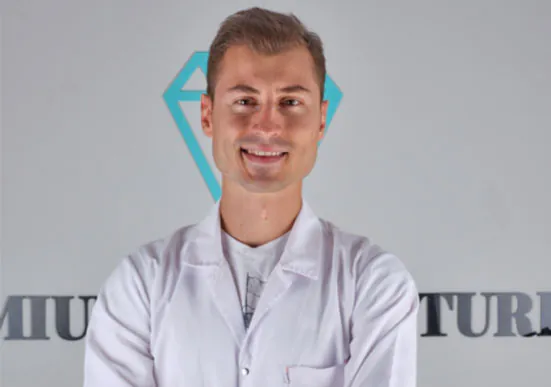 Reviewed by Dr-Dt-İsmail-Kilic - Prosthodontist 2018-03-20 edited on 2021-11-14
---
He graduated from Hacettepe University Faculty of Dentistry, which he started in 2009, in 2014. He continued his post-graduation academic and clinical education at Selcuk University Faculty of Dentistry, Department of Prosthodontics between 2014-2018. In 2018, he was entitled to receive the title of specialist dentist by presenting his thesis on "Comparison of Digital and Conventional Impression Methods in Implant Supported Fixed Partial Prosthesis". Specialist Dt. İsmail KILIÇ has published various articles in national and international peer-reviewed journals, and he has taken place in many congresses with oral and poster presentations. He is a member of Turkish Dental Association (TDB), Turkish Association of Prosthodontics and Implantology (TPID), European Prosthodontic Association (EPA), International Association for Dental Research (IADR) and International Team for Implantology (ITI).