ROOT CANAL TREATMENTS ( ENDODONTİC THERAPY )
ROOT CANAL TREATMENT IS USED FOR
Root Canal Treatment also known as Endodontic Therapy is a dental procedure used for removing the inflammation or infection in the roots of a tooth.

HOW MANY DAYS DO I NEED
Your treatment can be completed in 1 day.
GET FREE QUOTE
SEE PRICE LISTS
Root canal treatments are one of the most commonly prescribed dental treatments anywhere. At Premium Dental Turkey, you can have a root canal done at a scenic location, with low cost, by a highly skilled endodontist. Getting the Root Canal Treatment from an endodontist is highly important because they are more qualified and specialized in this field of dentistry.
What is a Root Canal  Treatment  and Who Needs This Treatment?
Root canal treatment is required when tooth decay become severe and reaches the root of a tooth. If the interior of your tooth is infected or inflamed, a dental specialist will perform a root canal to remove pus, clean and disinfect the problem area. The dental specialist would also shape the damaged root canal and seal the tooth so the infection doesn't reoccur. Tooth root infections occur when you neglect to treat cavities. If left untreated, infected teeth could fall off or spread the infection to surrounding teeth and gums. A root canal treatment, thus, saves your tooth and safeguards oral health. 

Getting a Root Canal Treatment at Premium Dental Turkey
The procedure for a root canal is rather straightforward. Dental specialists at Premium Dental Turkey have performed countless root canals and are thus highly skilled at carrying out this type of treatment. A root canal can be performed in one day. When you visit our clinic, the dentist will take an x-ray of the infected tooth to assess the damage. The procedure will follow soon after. You will be anesthetized during the process so it will be pain-free. 
Premium Dental Turkey uses the latest technology to perform root canal treatments. Our procedure is minimally invasive and maximally effective. 
Combined Root Canal Treatment Options
Root canals are the result of bad oral health. An infected tooth may not exist on its own. In some cases, a single root canal could cause adjacent teeth to be misaligned. If the exterior enamel of the tooth is severely lost due to single or multiple cavities, you would require a dental crown to hide the damage and restore functionality. We can easily arrange additional treatments, if necessary, following your root canal procedure. If your teeth are out of alignment, you can consult us regarding a smile makeover. We can also fill the tooth or fix it with a dental crown as required using the high-end material. 
Root Canal Treatment Cost Advantage
While root canal treatment procedures are rather standard at dental clinics, costs can be excessive in most parts of the developed world. A single root canal could result in bills worth thousands of dollars. Premium Dental Turkey offers low operational costs for root canal procedures without compromising on quality. You can get the best treatment as offered in Germany or the UK, minus the exorbitant rates. 
>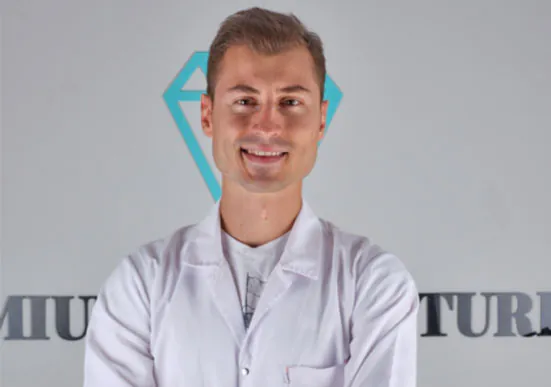 Reviewed by Dr-Dt-İsmail-Kilic - Prosthodontist 2018-03-18 edited on 2021-11-14
---
He graduated from Hacettepe University Faculty of Dentistry, which he started in 2009, in 2014. He continued his post-graduation academic and clinical education at Selcuk University Faculty of Dentistry, Department of Prosthodontics between 2014-2018. In 2018, he was entitled to receive the title of specialist dentist by presenting his thesis on "Comparison of Digital and Conventional Impression Methods in Implant Supported Fixed Partial Prosthesis". Specialist Dt. İsmail KILIÇ has published various articles in national and international peer-reviewed journals, and he has taken place in many congresses with oral and poster presentations. He is a member of Turkish Dental Association (TDB), Turkish Association of Prosthodontics and Implantology (TPID), European Prosthodontic Association (EPA), International Association for Dental Research (IADR) and International Team for Implantology (ITI).