Veneers in Turkey are one of the most popular cosmetic dentistry treatments.
DENTAL VENEERS ARE USED FOR
Dental Veneers in Turkey are used for creating a brighter smile by masking an uneven smile line, discoloured, and chipped teeth. Best way to achieve an instant transformation.
HOW MANY DAYS DO I NEED
Veneers in Turkey Can Be Completed in 5 days. 
GET FREE QUOTE
SEE PRICE LISTS
VENEERS TURKEY
When patients want a total smile makeover or restoration, laminate veneers are one of the top cosmetic dental options. A dental veneer is a thin shell made out of a synthetic material and shaped like the front of a tooth. This covering can be placed on top of the patient's tooth to mask discoloration, worn down dentition, gaps, and similar problems. These shells are strictly cosmetic, however. As such, they can't improve function, be used as a form of dental treatment or for a fracture, or be a substitute for a dental implant, crowns, or root canal treatments. Instead, this procedure is just about improving your smile line and giving you a Hollywood smile line. In Turkey we offer high quality veneers package at discount prices.
Veneers in Turkey Prices, Full Set Of Veneers Prices
The cost of Zirconium Full Veneers in Premium Dental Turkey
£195
or
€219
or
$269
. Full Set of Veneers in Turkey consist of 20 Veneers and the prices are
£3900
or
€4380
or
$5380
without any discounts. Please note that we are only using
Premium Quality Straumann HT Zirconium Full Veneers
. If you would like to get a personalized treatment plan and costs of Veneers in Turkey you can check and send us a quote form from our
dentist in turkey prices
page. This treatment process for patients in UK clinics or other European countries can start at £600, but is often thousands upwards of this range. The total costs of veneers procedures include laboratory fees as lab technicians have to customise the shells to suit your mouth. When the final laminate veneer prices are tallied, the toll is too much for most patients. To make matters worse, dental insurance policies do not cover the veneers cost as they can be classified as a cosmetic dental treatment. At Premium Turkey Dental Clinic, however, we offer patients discount veneer packages for first-rate resources. Although we provide our patients with the same globally acclaimed brands and dental treatment you can find in clinics in the UK, Germany, and the US, we have the benefit of low operational prices. This is due to the lower prices for our centres and facilities, technicians, and technology of veneers in Turkey. As such, the reduced cost of visiting a clinic in Turkey and our veneers package means that you can save up to 70% or thousands of euro. In addition, your treatment can be handled at our facilities in just 5 days and three appointments. This allows you to complete your treatments on holiday and then head to the airport and home when you are done. If you are curious
how much is a full set of veneers in Turkey
please contact us via
WhatsApp
and Get Free Quote now.
VENEERS IN TURKEY BEFORE AFTERS

If you would like to check more Before and After Photos of Veneers in Turkey you can check
HERE
Who Can Benefit from Veneers ?
A set of veneers can make a world of difference to a patient's mouth and smile. This is why they are commonly used in a smile makeover, particularly for restorations. The dental treatment masks discoloration, chips in tooth enamel, gaps, etc. So, if you are looking for a bright and perfect Hollywood smile, these shells are your best option As mentioned, though, veneers aren't a good solution for all your mouth related problems. If patients are struggling with misshapen/misaligned teeth, severe damage, or deep decay, or teeth grinding, then other treatments will be necessary. Here, dental implants, crowns, or root canal treatments will make more sense. Not sure what you need? Contact our clinic and send over your dental pictures and perhaps an x ray. We will consult our cosmetic dentists and get back to you with their recommendations.
What are Veneers made of ?
Thanks to modern technology, veneers are made from more sophisticated materials than ever before. Porcelain continues to be the most popular material for restorations as its appearance and finish is very similar to that of enamel. Now, porcelain veneers are also known as laminate veneers. However, there is a difference between regular dental shells and laminate veneers. The main variation is that laminate veneers are much thinner – about 0.5 mm to 1.2 mm thick. Despite this, laminate veneers are known for their toughness. At Premium Dental Turkey Clinic, we offer patients high-end brands such as E.Max that utilize unique materials and provide longer-lasting veneers. You can learn about what this company has to offer below and check out our discount rates too.
An Overview
Most patients are curious about this procedure regarding laminate veneers. In reality, at Premium Dental Turkey, it is a straightforward process that doesn't involve any discomfort. Here is the information, details, and terms you should know: This process involves four main stages: Treatment planning for an individual patient - checking jaw angles, x ray, etc. Preparations of teeth, taking impressions and applying temporaries Preparation of shells by technicians Bond veneers to patient teeth and final adjustments At Premium Dental Turkey clinic, the process takes just 5 days and only involves 3 consultations. This is good news for patients who are on a short holiday – you can head to the airport and home when you are done. During the first appointment, our cosmetic dentist will determine if shells are your best course of dental treatment. To do this, they may take a bite check or an x ray of your jaw and teeth and consider various angles. If you are a good candidate, you and the prosthodontist will collaborate on the right design as well as colours and shades. Then, the prosthodontist will take an impression of each tooth shape. Our technicians will use these to create a custom design in our laboratory. After this, your teeth will be prepped for the shells. You will be provided with temporary teeth for a trial period until the permanent shells are ready. For your second appointment, your cosmetic specialist will check if the porcelain veneers fit you perfectly or if our lab technicians need to make further alterations. The third appointment is where you are fitted with your permanent set of veneers. You will also have to make one further appointment for a final check-up. Now porcelain veneers are quite durable but require special care. It is important to follow your prosthodontist's instructions carefully. This includes proper brushing and flossing. You also have to avoid eating tough or hard foods or trying to open bottle caps with your teeth. If you suffer from teeth grinding, we will prescribe a night guard for you during your appointment.
Dental Veneer Brands


E.Max Dental Veneers in Turkey
E.Max is one of the leading brands, used in clinics and centres around the world. They produce ceramic veneers that are known for their sturdiness, durability, and longevity. These shells also have a translucent finish that produce a perfect smile. Most patients prefer E.Max shells for restorations due to their natural aesthetics. The E.Max laminate veneer line has a selection of various shades of white. Thus, you can find one to perfectly suit your smile without worrying about an artificially white colour. The durability of the E.Max shells also ensure that patients don't have to be overly careful about what they eat or drink. Now, these results and finish can be rather expensive. However, at Premium Dental Turkey, we offer discount prices without compromising on quality.
VITA SUPRINITY VENEERS
Vita Suprinity offers the latest in veneer technology. These shells are uniquely made from glass ceramic reinforced with 10% zirconium, a naturally occurring mineral. The brand holds claim to the world's very first zirconium-reinforced lithium silicate ceramic veneers. The main benefit of zirconium veneers is their appearance – their higher level of translucency results in more natural colours when fitted. The lack of colour of these zirconium veneers allows lab technicians to shade the shells in to perfectly suit the surrounding dentition, improving overall aesthetics. In addition to their beautiful colour, zirconium veneers are known for their durability. They are tough and they don't crack easily. Despite this, zirconium veneers are also quite thin and don't feel any different from your other natural dentition. As you can imagine, the price is quite high for such a result. But, at our clinics, we offer patients discounts on operational costs, allowing us to keep the final price much lower than facilities in Europe. Our dental team in Turkey consists of specialists in the area of Cosmetic Dentistry. They are prosthodontists trained to apply Cosmetic Dental Treatments. Contact Premium Dental Turkey Clinic and get a consultation to learn about dental veneer brands, personalised appearance, and rates.
ADVANTAGES AND DISADVANTAGES OF VENEERS
Are you considering getting laminate veneers? If so, it is important to have all of the facts available to you before you reach a verdict about the treatment. So, here is a look at the top benefits and disadvantages:
ADVANTAGES
To start with, let's focus on the positive outcomes for patients getting laminate veneers treatment:
CAN SUBSTITUTE DAMAGED ENAMEL
Your dentition can become weakened or worn down by factors such as food, acid reflux, over-brushing, and grinding . Once damaged, this layer can\'t regenerate and this can leave the softer parts of your teeth exposed. This is where porcelain laminate veneers have their main advantage. These thin coverings are made from high strength materials that can easily double as replacements. Once they are placed on the front of the natural teeth, they will help to protect the exposed areas.
CAN FIX FLAWS IN YOUR SMILE
Few people are born with what can be considered the "perfect" Hollywood smile. In many cases, people typically have to contend with small gaps or a slightly crooked tooth here and there. Now, the issue with minor flaws is that many oral health practitioners will not correct them in the traditional ways as these aren't worth the hassle . The good news is that veneers can fix these problems for you with great success. See, these shells can be created for everyone, to be any shape or size. Thus, your oral health practitioner can fashion ones that will hide a crooked tooth or a gap. Now, there will be no structural change to this issue, only a cosmetic one.
CAN WHITEN YOUR TEETH
Foods and smoking can take a toll, causing many stains to build up on your teeth. In many cases, these stains aren\'t easily removed and tooth whitening only offers a temporary teeth discoloration solution. And, since the process is quite harsh, oral health practitioners will do nothing to whiten damaged or weak dentition. With veneers, though, the selection options let you choose the perfect colour and shade for your smile, just like celebrities! Since you have greater control over the precise shade, it can look a lot more natural as well. The best part, though, is that a majority of the modern shells are made from stain-resistant material. So, even if you continue with your habits as before, it is unlikely that they will become discolored again!
DISADVANTAGES
Now, let's uncover some of the disadvantages that patients encounter with this treatment:
THEY CAN BE COSTLY
It is important to realize that high-end veneers require good quality materials and craftsmanship skills. Similarly, for a more natural look, each veneer has to be designed to be well-suited to your dentition. As such, in many cases, the overall quote can be high - thousands of pounds. However, it should be noted that this is typically the case in UK and other parts of Europe, Australia, and the United States. At Premium Dental Turkey Clinic, the quote you receive will be a lot lower. Many veneers dental treatment and restorations in the UK are priced at around £1000 to £2000. Consultation, dental x ray, laboratory, numbing injections costs may add up. The same quality shells in clinics in Turkey, though, start from £125 because prosthodontist fees and operational and treatment costs are much lower. Consultations, laboratory prices, dental x ray, and numbing injections are free of charge if you would like to get veneers in Turkey.All in all, it is a good investment.
THE PROCEDURE IS FOR A LIFETIME
Before you can get veneers, your prosthodontist will have to change your current dentition in a few ways. The most common treatment procedure is to remove a thin layer from the front surface of your tooth. However, in certain instances, the dentist may have to reshape your tooth as well. Due to this, these shells can be considered an irreversible procedure. Once you get them, you will have to continue with this covering. As there is no lifetime guarantee, patients have to visit your prosthodontist in ten to fifteen years for a new set. Thus, if you are getting veneers, you have to be absolutely certain about your decision.
YOU MAY EXPERIENCE TEMPORARY SENSITIVITY
You do not feel any pain or discomfort during the veneers procedure since we provide the necessary anaesthetic shots. But, as some of the exterior layer of your dentition is removed, your tooth sensitivity may temporarily increase, like with root canal treatments. This is because certain elements of your tooth are now exposed to warmth, cold, and other sensations. Now, we will prescribe the necessary medication to ease the sensitivity. And, after the restoration, the shells should protect your tooth from such sensations. Still, it may take some time for you to get used to it. Some toothpastes and dental products can strengthen the exterior so that these sensations are less.
VENEERS AFTERCARE
Porcelain laminate veneers in Turkey can help you to drastically improve your smile. If you want these results to last then you need to know how to care for these latest fixtures. While a good set of veneers in turkey shouldn't give you any trouble, there are a few adjustments that you will need to make. Here are the top guidelines that you will need to follow:
TEMPORARY VENEERS
With veneers, you get a trial time before the permanent ones are fixed in place. This is a good opportunity to understand what your permanent shells will be like. Not to mention, you can also decide if you want to request any changes regarding shade, colour, or size. You should know that the temporary teeth for the trial run aren't quite as well-fitted or high-end as your permanent options. Due to this, you should listen carefully to any aftercare details that your prosthodontist provides you with. For the most part, you just have to brush with a special toothpaste. Since these veneers are only meant to stay in place for a short time, the adhesive isn't as strong. Due to this, you will need to check whether you should stop flossing for a while. Keep in mind that you will have to be careful about hard, very hot, or very cold foods until your permanent veneers have been fitted.
PORCELAIN VENEERS
Your permanent shells are made from a much more high-strength material. They are tougher, are better fitted, and bonded more closely as well. Nonetheless, you still need to be aware of how to care for your veneers as well as the dentition beneath them. This is the only real avenue for you to avoid tooth decay and doing any kind of damage to your smile. Here is how you can manage this:
PROPER ORAL CARE ROUTINE
After your smile makeover, it can be easy to forget that your "real" teeth still exist beneath. Since these are organic in nature, they are susceptible to disease and decay. It is due to this that you need to make sure that you are still brushing twice a day. It is also important that you floss at least once a day as well.
Improved Diet
Although your permanent veneers are tough, they are not invincible. This means that they can still be damaged in a number of different ways. One of the most common ways for this to happen is by biting down on hard foods such as ice or hard candy. These can cause hairline fractures or chips to take place. So, if you would like your veneers to last longer, it is best to stay away from such foods. Now, veneers are also used for aesthetic purposes. As such, you don't want them to get stained or discolored. As a result, you should limit your intake of tea, coffee, red wine, and other foods that may change the colour of the veneers and ruin your smile. Cigarettes and cigars can do this as well. If you do consume foods with strong coloring, make sure to rinse your mouth out well. This should prevent the stains from adhering to your veneers. Regular brushings should work as well. You can get them polished at your local dentist for your smile restoration.
Fixing Unhealthy Habits
Do you have a tendency to bite your nails or chew on other objects unconsciously? Well, this is something that you should try to rid yourself of, as soon as possible. As with hard foods, these habits can also put quite a bit of pressure on your teeth. As such, they may be prone to cracks or damage of some kind. Another issue to tend to is bruxism or teeth grinding. This often takes place when you are sleeping. The friction caused by this grinding cause your veneers to wear down. However, if you notice that you have this problem, it is important to take care of it right away. In many cases, your dentist will recommend that you wear some type of mouth guard while you sleep. This option will prevent your upper and lower dentition from rubbing together.
Regular Dental Checkups
Typically, you will need to make an appointment with a prosthodontist at least once or twice a year after the completion of dental veneers in Turkey. If you are especially prone to developing certain gum or tooth conditions, your dentist will recommend that you increase these number of visits accordingly. For one thing, regular cleanings are an excellent avenue to keep your veneers and smile looking white and healthy. For another, a regular consultation will allow your prosthodontist to examine your dentition for early signs of tooth or gum problems. They are then able to tackle the problem right away. You should remember that your veneers will eventually have to be replaced. Your dentist will be able to pinpoint these signs to confirm when this needs to be done. Either way, these appointments will keep your dentition as well as your veneers in the best possible condition. These are the top laminate veneer aftercare tips that you must to know. As long as you follow these guidelines, you shouldn't have any issues with your veneers. Nevertheless, if you do feel like your veneers don't fit right or if they fall out, it is important to inform us then we will resolve the issue since your veneers are under guarantee by Premium Dental Turkey Clinic. >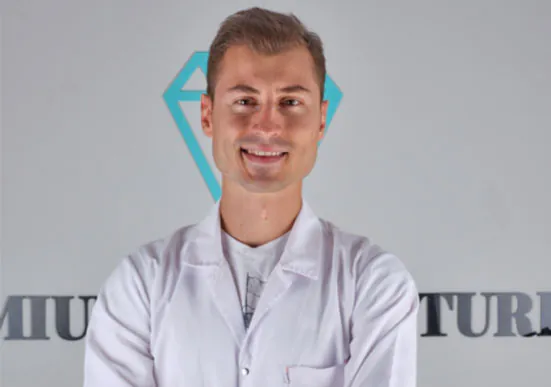 Reviewed by Dr-Dt-İsmail-Kilic - Prosthodontist 2018-01-15 edited on 2021-11-14
---
He graduated from Hacettepe University Faculty of Dentistry, which he started in 2009, in 2014. He continued his post-graduation academic and clinical education at Selcuk University Faculty of Dentistry, Department of Prosthodontics between 2014-2018. In 2018, he was entitled to receive the title of specialist dentist by presenting his thesis on "Comparison of Digital and Conventional Impression Methods in Implant Supported Fixed Partial Prosthesis". Specialist Dt. İsmail KILIÇ has published various articles in national and international peer-reviewed journals, and he has taken place in many congresses with oral and poster presentations. He is a member of Turkish Dental Association (TDB), Turkish Association of Prosthodontics and Implantology (TPID), European Prosthodontic Association (EPA), International Association for Dental Research (IADR) and International Team for Implantology (ITI).