Getting Dental Bridge at Premium Dental Turkey Clinic
DENTAL BRIDGES ARE USED FOR
Dental bridges are used to eliminate gaps between missing teeth. A dental bridge refers to a custom-made product that consists of two crowns and a "bridge," or a fake tooth, in between that fills the gap.

HOW MANY DAYS DO I NEED
Your treatment can be completed in 4 days.
GET FREE QUOTE
SEE PRICE LISTS
Dental bridges are used to eliminate gaps between teeth. A dental bridge refers to a custom-made product that consists of two crowns and a "bridge," or a fake tooth, in between that fills the gap. The dental bridge is supported by existing natural teeth or prosthetic teeth created by dental implants. Dental bridges are highly effective treatment options for eliminating unsightly gaps and restoring normal function to your teeth.
Why Choose Dental Bridges?
If you have missing teeth creating gaps in the mouth, there are several solutions to consider. You can use dentures, implants, or dental bridges. Dental bridges offer effective benefits at a rather low cost compared to the other two options. Dentures are removable and are quite uncomfortable to wear. Dental implants are expensive and require complicated surgical procedures. They can be paired with bridges to fix gaps caused by multiple missing teeth. If you have only one or two missing teeth, then a dental bridge is the most pain-free and cost-effective solution. If you are unsure if a Dental Bridge or a
Dental Implant
is the best solution for you, please get in touch with us today and we can advise you of all your treatment options and the associated costs of each. There are several advantages to choosing dental bridges. The most important being that they can restore your smile back to normal. They will also restore your ability to talk clearly and chew food without any problem. Dental bridges can prevent the jawline from the further decline that causes your facial structure to lose its shape. Dental bridges can also act as a preventative measure that protects existing natural teeth against displacement caused by gaps.
Getting a Dental Bridge at a Premium Dental Turkey Clinic
When you get a dental bridge fixed, the two teeth on either side of the gap are used as anchors to bridge the gap. Therefore, it should be understood that if you want to close a single gap made by one tooth, the dental bridge would be for three teeth. To fix a gap caused by two missing teeth, you will need a 4-tooth dental bridge. The dental bridge won't look like a "bridge." To regular viewers, the bridge would look like a set of natural tooth crowns. Dental bridges resemble and act like your natural teeth. You should also brush your dental bridge when you brush your regular teeth. With proper oral hygiene, a dental bridge can last up to 10 years. The dentist will also prepare your jaw to receive the bridge, which may involve removing parts of enamel to facilitate the false tooth or teeth. Your dentist will also provide you with a temporary bridge to wear until your permanent prosthetic is ready. Your dental bridge will be prepared at a grade A medical laboratory with premium-grade material. The dental bridge will be made from metal porcelain or zirconium porcelain, two of the most durable and best-rated materials used to make dental bridges. A dental specialist will place your permanent dental bridge during the second visit. It will be adjusted to ensure the best fit. In some cases, the dentist may require you to come in for a third follow-up visit as well.
Dental Bridge Costs in Turkey
Dental bridges can be expensive when made with top-grade material. Health insurance in places like the UK does not always cover the costs of dental bridges either. Premium Dental Turkey dental clinic offers high-end dental crowns at low operational costs. You will have access to dental bridges made from branded material but without the associated expenses. If you choose to get your bridges made in our clinic, it will save you, lab costs as well. Contact us for more details on the cost of this procedure. >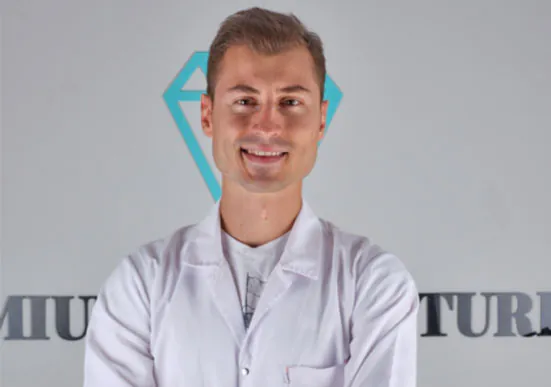 Reviewed by Dr-Dt-İsmail-Kilic - Prosthodontist 2018-03-05 edited on 2021-11-14
---
He graduated from Hacettepe University Faculty of Dentistry, which he started in 2009, in 2014. He continued his post-graduation academic and clinical education at Selcuk University Faculty of Dentistry, Department of Prosthodontics between 2014-2018. In 2018, he was entitled to receive the title of specialist dentist by presenting his thesis on "Comparison of Digital and Conventional Impression Methods in Implant Supported Fixed Partial Prosthesis". Specialist Dt. İsmail KILIÇ has published various articles in national and international peer-reviewed journals, and he has taken place in many congresses with oral and poster presentations. He is a member of Turkish Dental Association (TDB), Turkish Association of Prosthodontics and Implantology (TPID), European Prosthodontic Association (EPA), International Association for Dental Research (IADR) and International Team for Implantology (ITI).